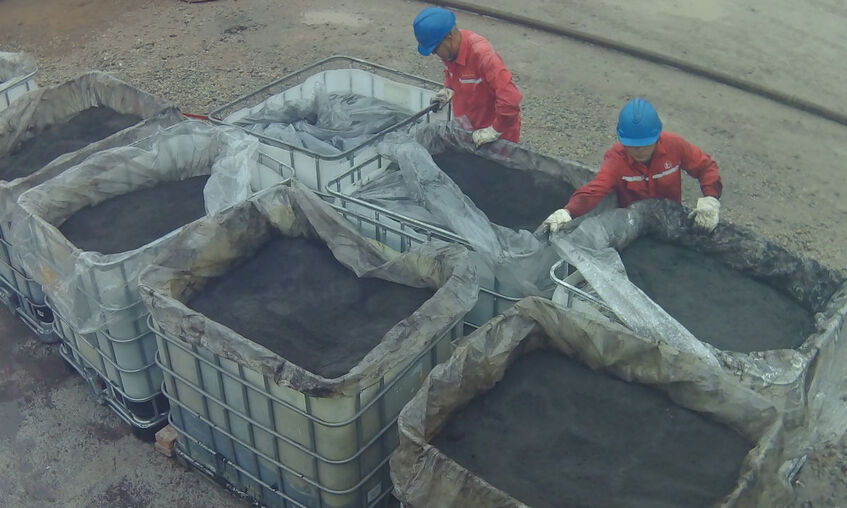 In the remote mountain region of Sichuan province, Sinopec has been drilling on China's largest shale gas field for years.
Oil-based drilling mud (OBM) is used extensively to assist in drilling to depths of up to 8,000 m (26,250 feet).
Until recently, deposing of this hazardous sludge was costly and labor intensive as the oil-contaminated mud and drill cuttings had to be regularly shipped to a distant collecting station for further treatment.
But with the advent of much stricter environmental requirements, this was no longer possible.
After evaluating alternative solutions, Sinopec chose Zoom Petro's indirect desorption technology to automate oil-based drilling fluid recovery onsite.
Thanks to its modular design and small footprint, Zoom Petro integrates seamlessly into the dill site's mud system and can be moved quickly to wherever the drill site is.
Even better:
Unlike other treatment systems like "soil washing" that rely on the constant addition of proprietary treatment chemicals, the Zoom Petro system just works.
In fact, once set up, the separation and cleaning of water, oil, and solids runs almost on autopilot, day, and night.
In addition, this project integrates our latest vacuum shale shaker, which uses negative pressure to remove up to 30% more liquids from oil cuttings before being fed into the indirect desorption unit.
This effective preprocessing step significantly reduces the processing time of the drill cuttings, thus saving even more energy.
And there are several more advantages:
Continuous feedstock flow: Oil-based mud and drill cuttings are automatically pumped into the system and continuously being processed. No more waiting for the next batch to be ready.
Remote-first design (either containerized or skidded): Oil sludge is treated right where it is produced. This means complying with hazardous waste laws becomes easy, as there's no hazardous waste anymore.
Drilling is expensive, especially in remote areas. But with its robust technology, near-zero downtime, and predictable pure effluents, Zoom Petro not only removes the risk of operating another equipment but also generates additional revenue.
As a result, Sinopec managed to turn the costly disposal of contaminated drilling waste into a profitable advantage:
Diesel: 8,500l/day saved per day/well
Waster: 20,000l of water saved per day/well
Deposit fees: USD 160,000 saved per well
Effluent water, oil, and solids meeting national and international environmental requirements.
Highly remote setup. No time wasted when moving to the next well.
This is just the savings per well, which multiply with more wells.
This is why Sinopec commissioned us to recover oil-based drilling mud and drill cuttings from 12 additional wells, with the option of more in the future.
| | |
| --- | --- |
| Location | Chongqing shale gas field, Sichuan Province |
| Operators | Sinopec and PetroChina |
| Processing capacity | 35 tons/day/well (easily extensible to higher capacities) |
| Installation time | 2 days |
| Effluent solid oil content | ≤ 0.3% |
| Staff count | 3 per shift |
If you want to know exactly how to use thermal desorption to turn drilling fluids (or any other oily sludge) into profit, have a look at our oily sludge recovery system.
Of course, you can also contact us directly from on the contact page.